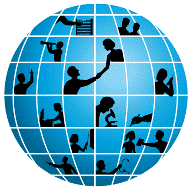 Outsourcing Service

 

During 2003-04, ITES-BPO industry has recorded revenue of US$ 3.6 billion and grew near by 53 % in the same period. Reports from the renowned research associations such as Gartner, Forrester and Nasscom have clearly mentioned that BPO organizations are better or at par with their overseas counterparts on the standards of Quality, Customer Satisfaction, and Employee Satisfaction.

The Driving force behind the ITeS-BPO industry
Gaining maturity: The industry is rapidly gaining maturity and consolidation, following a large number of mergers and acquisitions during 2002-03. Widening of the services spectrum: ITES-BPO companies are expanding their services spectrum. ITES-BPO vendors are moving up the value chain to offer high-end services such as equity research and analytics, insurance and technology support and development. Key business processes and functions that are outsourced and form a large part of the BPO market include:

a)   Sales/marketing
e)   Human resources
b)   Customer care
f)   Payment services
c)   Administrative
g)   Manufacturing services
d)   Finance and accounting
h)   Distribution logistics

Benefits of Outsourcing:

Enabling Focus on the Strategies 

Generally, most of the corporate executives are observed spending well over 70 percent of their time carrying out day-to-day management that leaves them eventually with very less time focusing on the strategic part of the business. Business process once successfully outsourced, enables the executives to concentrate and dedicate their time towards much important tasks that can help business achieve higher propositions.

Improving Efficiency

Business Process Outsourcing has evidently been instrumental in helping numerous organizations achieve higher efficiency levels. As non-core internal functions involve a very high usage of resources, systems become less efficient and less productive. By outsourcing a non-core function to a world-class provider, the organization can begin to see the benefits of reengineering. Outsourcing enables the organizations transfer their able resources towards the core functional areas for a concerted growth.

Expanding Capabilities

Once successful, Outsourcing can really help the organization in expanding its capabilities and service spectrum easily apart from facilitating attention on core areas and increasing efficiency.

Competitive Advantage through best of the Technology and Training

The specialization and expertise of the service providers gives customers a competitive advantage and helps them avoid the cost of technology and training that is always found required for boosting up the gains.

Better Usage of Capital Funds

Deciding where to invest these funds is one of the most critical decisions for any organization. It is often hard to justify non-core capital investments when areas more directly related to producing a product or providing a service compete for the same money. Outsourcing can reduce the need to invest capital funds in non-core business functions.

Reducing operating costs

An outside service provider's lower cost structure, based on the economy of scale and specialization, reduces an organization's operating costs and increases its success probabilities. Companies that try to do everything themselves may incur very high cost of operations and that are ultimately passed on to the customer thus rendering the success chances to lower extent.

Reducing risk

Keeping in view the changes such as market, government regulations, competition, technologies and financial conditions it is always a very risky situation for the organizations carrying out all the core as well as non-core activities on their own.

Outsourcing it to a service provider counts as a wise decision in such situation as the shared investment made by the outsourcing service provider lessens the risk to a great degree.